thought id postt his up here since nobody reads the rebuild thread anyway,
time for some new wheels
One of my big projects that has been keeping me busy for months is a set of new wheels
Ever since before bought the car I was on the lookout for a new set of wheels for it, sort of standard practice really, new car = new wheels esp since the current ones were dinky little 13" ones and this car is in need of a style update,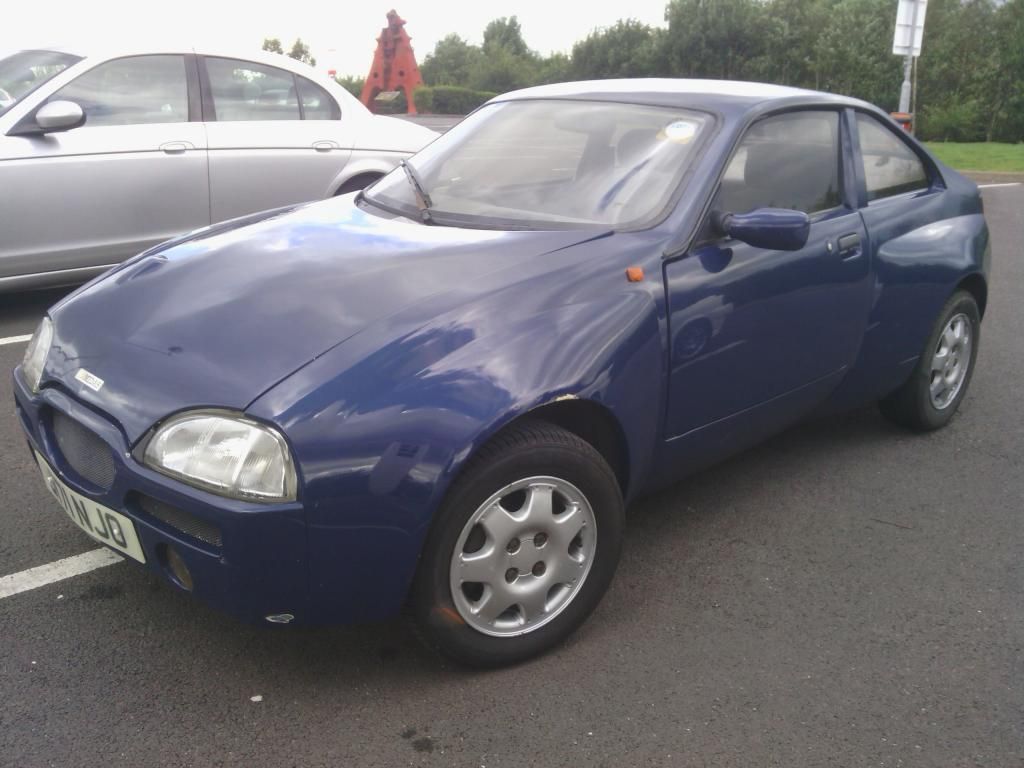 however it soon became apparent that there are all of about 4 sets of wheels that fit the rover metro / 100 and none of them look particularly great in my opinion, not only that but nearly every rover metro or metro based kit car seems to run the same set of wheels I had thus giving a further reason to change them at whatever cost….
The hunt began, the problem arises since rover decided to go back in time with the rover metro and use the old imperial 3.75" inch PCD wheel stud pattern, further hampered for the metro at least by having a ridiculously large offset of ET52 and again not helped by the puny 5.5j width, so my initial dream of just banging on a set of MGF wheels (same daft PCD) would not work since they have a offset predominantly of ET35 leaving the wheel protruding further than the originals by 18mm which may not sound too much but when you take into consideration that the original 13" wheel protrude out the arches by 11mm (on the Cortez) this leaves a big issue,.
Regardless I still had to have different wheels and a minimum of 15" since small cars look good with big wheels (IMO).
I considered re-drilling the hubs to a more common 100 PCD but there is not enough material to do so, I considered trying wobble bolts on a Fiat 98mm PCD but this still doesn't quite give enough movement in the PCD (about .2mm shy per bolt which just seems a bit dodgy) and the offset is still an issue.
Hub adapters were out of the question since the thinnest ones available add an extra 18mm to the offset (ET70?)
I even considered replacing the vented disk GTI front suspension to standard since the GTI is afflicted with a 2" wider track on the front over the lower spec cars but again this does seem a step back somewhat and the brakes are crap at best.
While looking at various ways to get different wheels to fit different cars I did come across the process of having them re-drilled, now there's 2 ways of doing this, the American way (just google it, you wouldnt have them on your wheel barrow) or the UK way, the UK still lacking behind with only 3 companies offering this service (believe me I've looked) but this seemed to open up the only way I could achieve my goal, after speaking to each company and getting my head around what can and cannot be done, and deciding there was only really 2 viable places I would be able to send any wheels to (bad phone manners) I was on the lookout for a set of 15" wheels that were close enough to work with,.
After many many hours looking at photos on the internet and emailing many sellers on eBay for a photo of the rear of their wheels to check suitability I drew up a short list of wheels that could be used.
Nissan micra K12 has 15" 5.5j alloy wheels that look like they would do the trick very well, the offset is 50 as well so thats close, it's just the PCD, and since both UK companies machine inserts for the bolt holes then offset drill the new PCD over the original these were an option but for 2 draw backs, 1 the price of these wheels is £100+ each second hand and more still from Nissan and no centre cap to hide any drilling into the wheels.
Next option was the original MK1 BMW mini, again 5.5j and a 49 offset, but the hub centre is so thin that any machining is really out of the question, also the backs of these wheels spokes is pretty flat not leaving much room for callipers.
Last option was Vauxhall Tigra, they are 6j and 49 offset but a nice thick hub to go at and come with a centre cap to hide all the work that's been done just in case it was function over form, so with that I had to make sure so I bought one off eBay which worked out cheaper than buying 4 then paying a courier to ship them to my chosen machine shop, with this wheel I drilled each bolt hole out to 20mm allowing my studs to fit through and roughly bolt them onto the car to experiment, in doing so I could see there was plenty room to modify the offset to bring it back to standard (ET55 – due to wider wheel) and clearance lock to lock etc.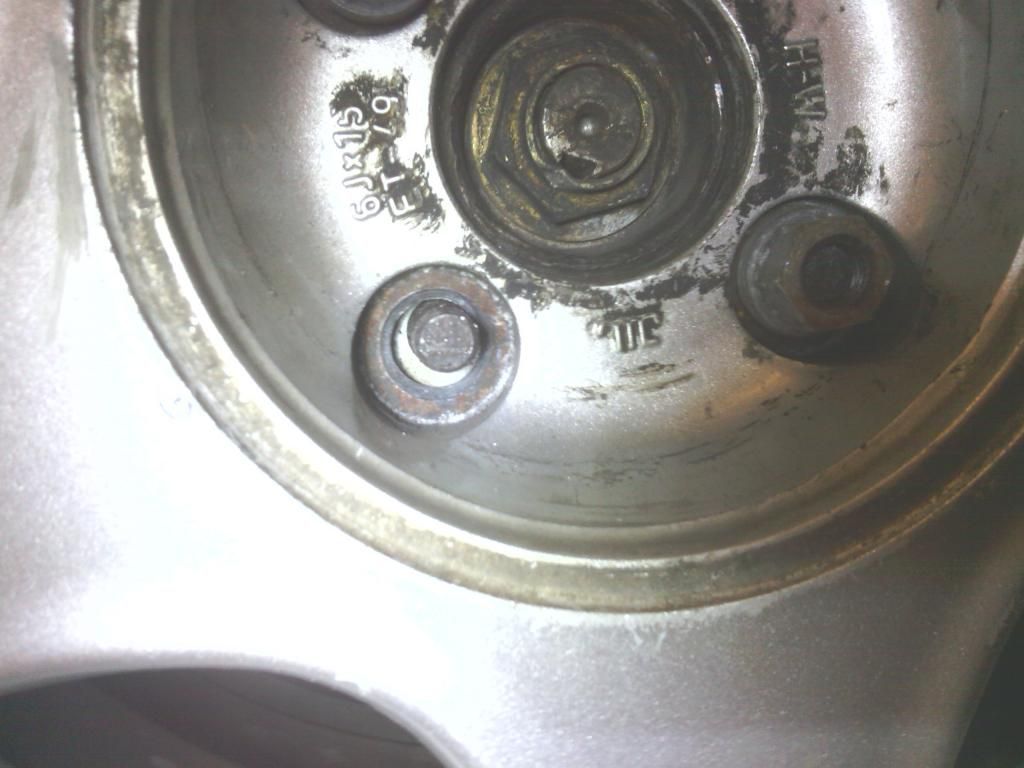 Once I was happy I spoke to the machine outfits and looked online at reviews, the one name that came up time and time again with very impressive reviews from everyone was Ian Jameson engineering in Yorkshire and they by far were the most pleasant and reassuring to speak to on the phone so the plan was put into action, I took the brave / stupid (delete as appropriate) step and blindly bought a set of 4 Tigra wheels off eBay and had them sent them straight to Ian Jameson engineering from the seller, this could have all gone a bit pear shaped but I was feeling brave, from there they had them for about 2 weeks did the work and sent them back all carefully wrapped up, my instructions was to machine the PCD to 3.75" and the offset of 2 for the fronts down by 6mm, this would put the outer edge of the fronts to the exact same spot as the standard 13" wheels and bring the rears out slightly to help address the front to rear imbalance in terms of looks and the work was carried out faultlessly, thankfully thh vauxhall and metro both have the exact same CB so on modifcation needed there.
the front wheel inserts fitted have a bigger shoulder to spread the load across a wider face and all are done to a high standard and Loctite into place as per the original Vauxhall wheels inserts they machined out so technically replacing like for like, after stress analysis I was advised on machining only 5mm as the maximum and I was happy with this, better safe than sorry and the hubs area still thicker than the standard metro. I didn't take into account the ebay wheels would be filthy obviously suffering from a split CV boot in the donors latter months on the road. the insides were in a bad way cosmetically but thankfullt bolting each wheel on the front hub with the wheel in the air and the car running in gear i could see each wheel was as true as a die.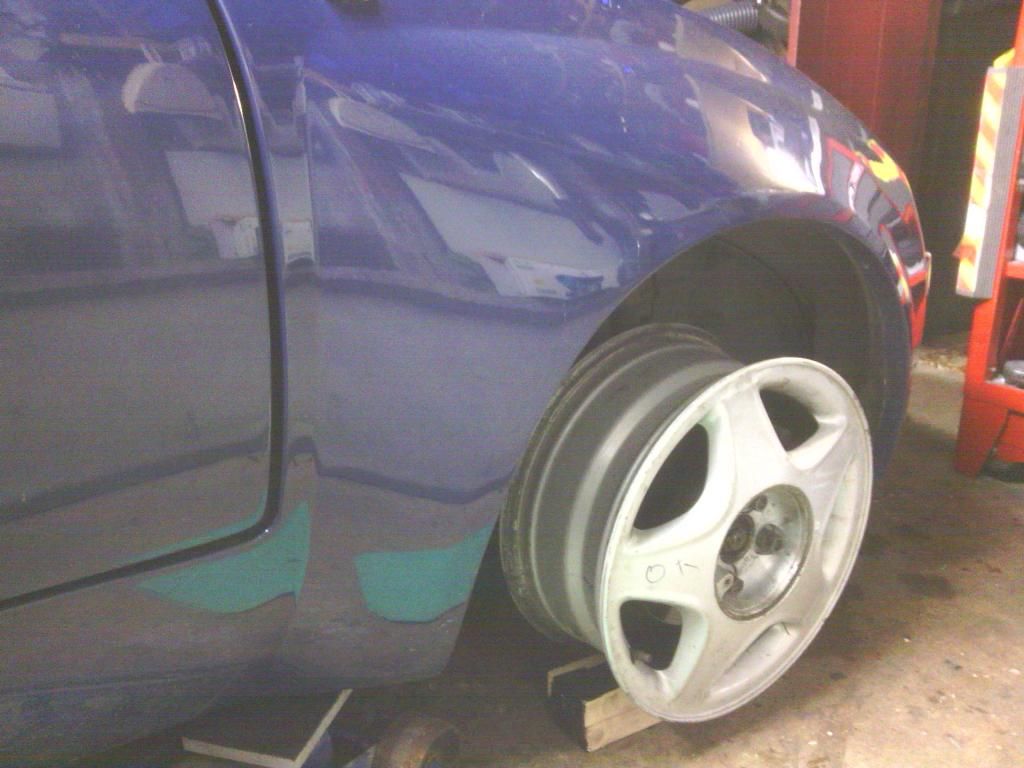 the centre caps didn't fair too well so 3 more were purchased and all 4 where cleaned in the same way as the wheels and the badge holes filled in with 2 part chemical metal.
After grit blasting the wheels twice and thoroughly cleaning them in solvent many times over It was time to get them powder coated,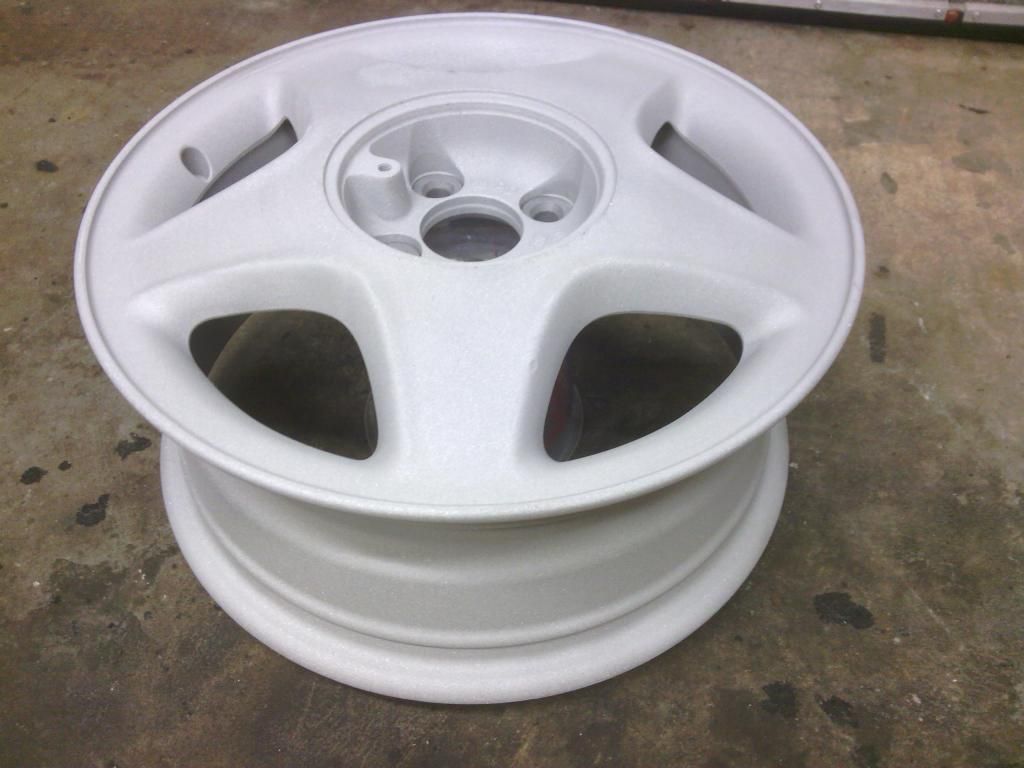 I thought about the colour for a while but the choice for me was easy, silver looks a bit plain, anything dark looks dirty, and colour will look un fashionable in 3 weeks' time so the only real option was classic white, RAL 9010 white same colour as my quantum, just off- white enough to not be cream - took them to my local powder coaters who I've used on other projects and they did a fantastic job as always
Once back home i gave each a quick go round the inserts with polyurethane to keep any moisture out, I don't want the inserts rusting or worse still electrolytic corrosion between the steel and alloy.
After tracking down a company to fit the tyres who wouldn't wreck the wheels in the process (happened so many times before) I got new tyres and fitted with new valves and balanced, the finished articles look great,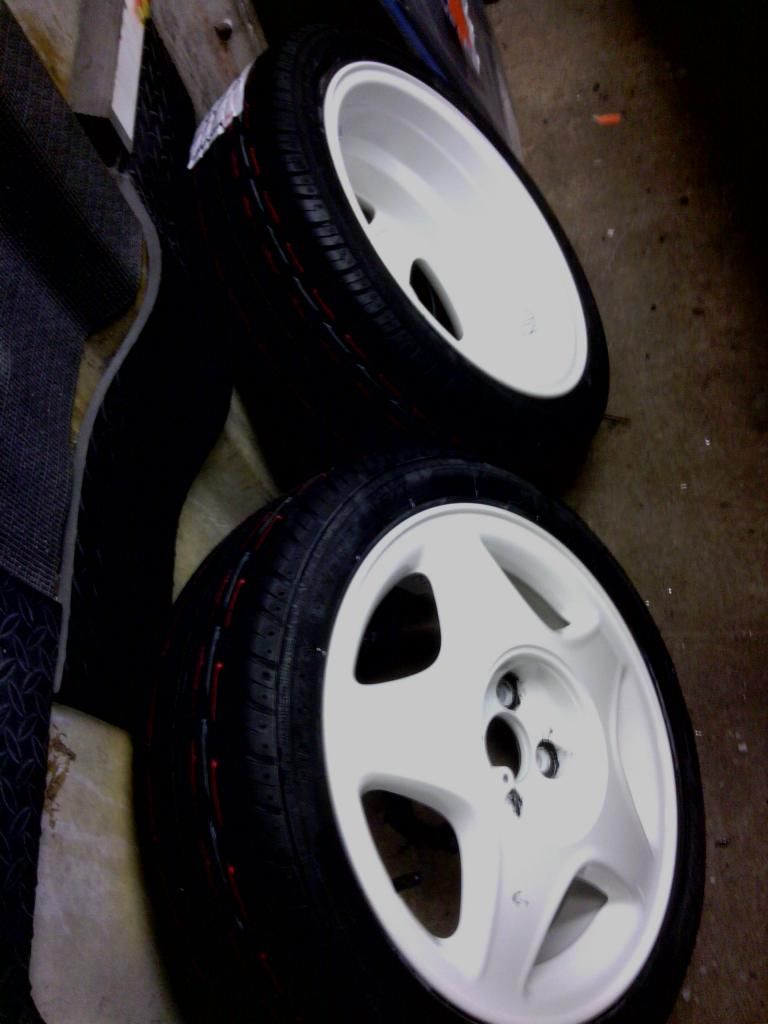 The cenre caps are held on with special head M8 bols so a ne set and key was demanded, I also bought some 8mm I.D rubber washers to stick to the bolt head so not to mark the white when removing and tightening
The wheel centre looked a bit plain with no badge so I first used some of the original Midas badges from the metro wheels kindly donated to me by Neil the previous owner,
sadly they looked a bit small on the wheels so reluctantly I replaced them for a bigger union jack emblem similar to those fitted to the Jag X type, well it's a British car after all, the final overall effect with them on the car is exactly what I wanted, the car drives superb since the rolling radius is the same on 45 profile tyres, the width is the same also at 185 since any larger would put them out of the front arches too much, there is no wobble or shake (thankfully the wheels supplied from eBay were ok – just as well) and I can say the car handles even better now if slightly harder ride but not that much, all in all I'm very happy with the results and worth every penny, talking of which, the final bill for them to be on the car and running is just over £850!!!
Probably the most expensive wheels I've owned to date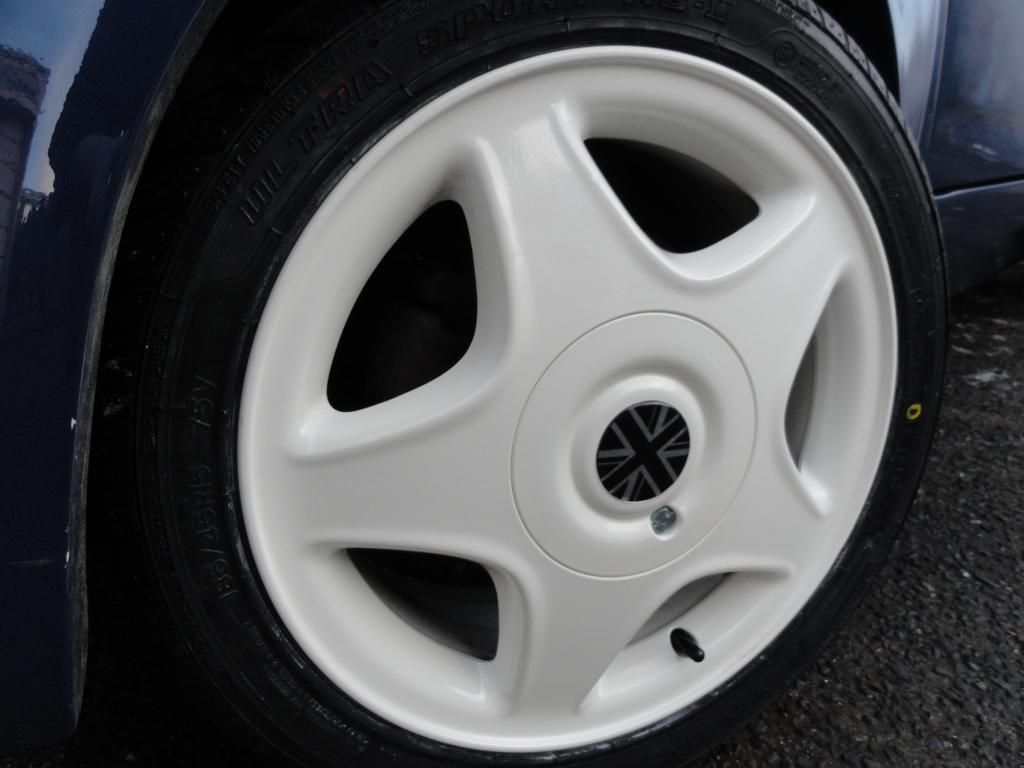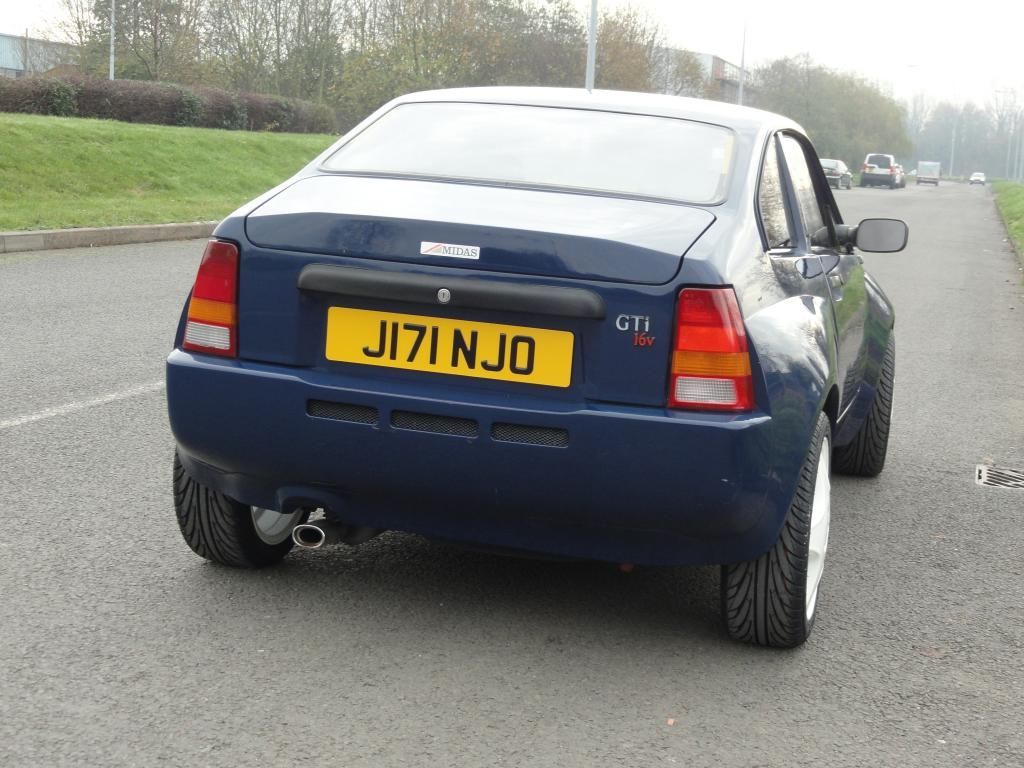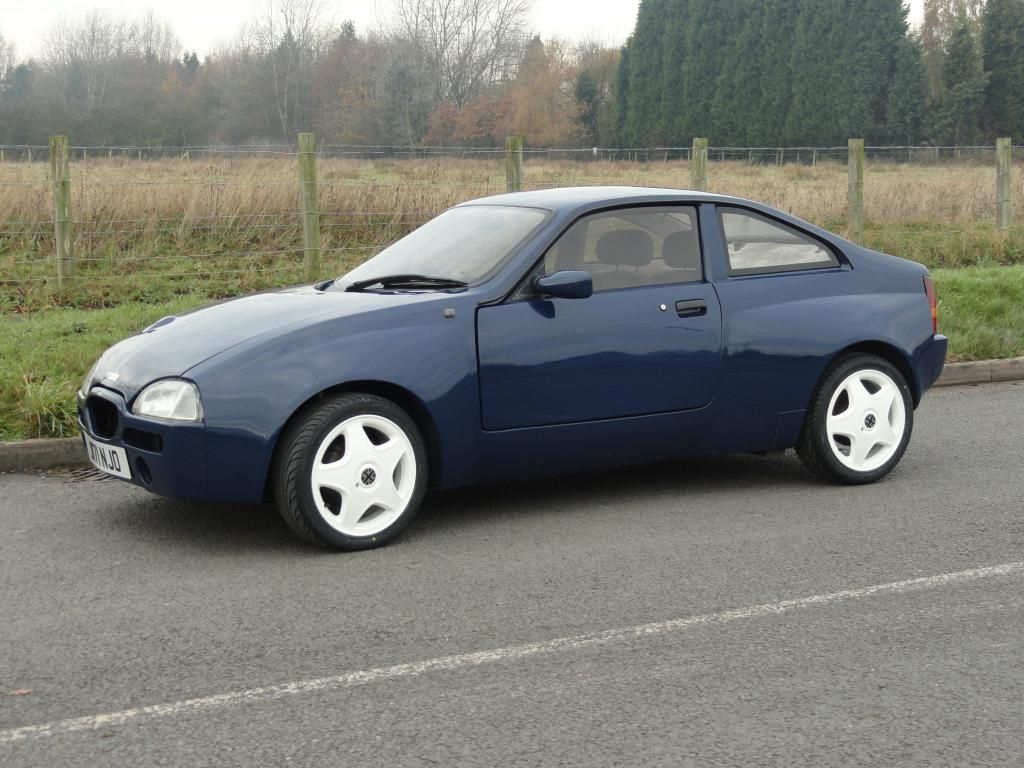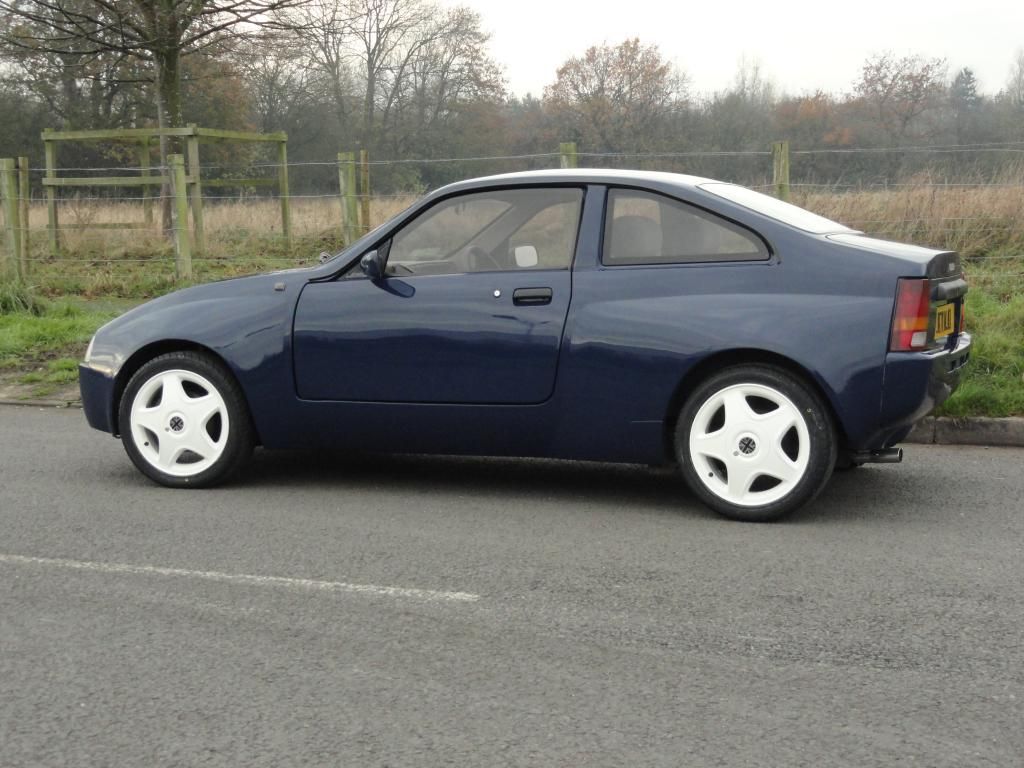 I took the opportunity to take some pics of the car too since I don't think I put a pic or 2 of the whole of the car up since I've had it, I even mopped it to sort the shine
I hope you like, I await your responses